We're sorry, but all tickets sales have ended because the event is expired.
May 18, 2023




1:00 pm - 2:30 pm
2nd Quarter GHILG Meeting
February 23, 2023
1:00 pm – 2:30 pm (CT)
Agenda:
1:00 – 1:05 – Welcome and Opening Remarks
1:05 – 1:15 – OFCCP Updates
1:15 – 1:25 – EEOC Updates
1:25 – 2:25 – OFCCP is Making Headlines – What Can Contractors Expect

Now perhaps more than ever, federal contractors and employers of all stripes are grappling with an increased focus on pay equity, and it is transforming employer approaches to compensation. Not only are federal contractors dealing with a ramped-up focus on pay equity and technical compensation compliance by OFCCP, in just the past few years states and localities from sea to shining sea have enacted new laws impacting various aspects of employers' compensation practices.  In this session, participants will learn about compensation analysis requirements applicable to contractors and strategies for compliance, OFCCP enforcement priorities and approaches to compensation, and the myriad pay equity-related laws and requirements enacted – and coming down the pike – at the state and local level.
Meredith Gregston
Senior Attorney, Hunton Andrews Kurth LLP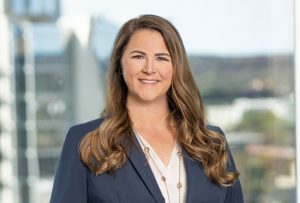 Meredith focuses her employment practice on affirmative action, pay equity, and diversity and inclusion, regularly assisting clients with a variety of employment matters, such as retaliation and discrimination claims, investigations, and day-to-day counseling. She regularly assists clients through pay equity disputes and internal audits, and on global compliance with pay equity legislation. Meredith frequently partners with companies to analyze and develop diversity and inclusion initiatives, and to analyze compensation programs, to not only ensure they are in compliance with applicable law, but to help them achieve internal equity and other goals.
2:25 – 2:30 – Closing Remarks
Please join the meeting from your computer, tablet or smartphone: https://meet.goto.com/gsartor/ghilg-meeting
You can also dial in using your phone:
United States: +1 (408) 650-3123
Access Code: 535-188-157
Description:
Please join the GoToMeeting from your computer, tablet or smartphone: https://meet.goto.com/gsartor/ghilg-meeting You can also dial in using your phone: United States: +1 (408) 650-3123 Access Code: 535-188-157 more…